15. 1. 2020, Vladimír Klaus, navštíveno 1945x
Hudba
Aktualizace systémového programu syntezátoru Roland JUPITER-Xm není nic složitého a při postupování dle originálního návodu je to otázka pár minut. Potřebujete k tomu USB klíčenku, nejlépe naformátovanou přímo v přístroji. Já jsem použil normálně naformátovanou ve Windows na FAT32 a zafungovalo to zcela bez problémů.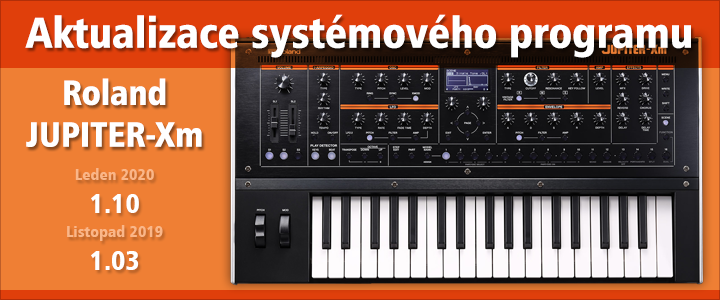 Z této stránky si stáhněte jupiterxm_sys_v103.zip, resp. nově jupiterxm_sys_v110.zip. Soubor, který je uvnitř - KY023_UPA_up.bin - zkopírujte do rootu USB klíčenky.
Pak už stačí klíčenku zastrčit do vypnutého syntezátoru, přidržet tlačítko FUNCTION a přístroj zapnout. Téměř ihned se objeví "JUPITER Updater…", čímž se rozeběhne aktualizace. Po pár minutách je aktualizace ukončena a jste vyzváni k vypnutí přístroje "Please power off". 

Po zapnutí a kontrole systémových informací se můžete přesvědčit, jaká verze je nainstalována. Pokud jste aktualizovali z verze 1.02, bude změna patrná na první pohled už při stisknutí MENU, a kde dříve byly pouze tři položky, je dnes nabídka mnohem bohatší.

Kromě spousty zajímavých novinek, které budu zkoumat následně, mě na první pohled zaujalo, že byla ve verzi 1.10 přidána i velká sada nových tónů - celkem 45! Vše je detailněji popsáno v doplňkovém manuálu.
JUPITER-8: JP105-116
JUNO-106: JU108-122
JX-8P: JX106-117
SH-101: SH097-102 

verze 1.10 - leden 2020
Novinky
The ZEN-Core Tone Import function is supported (MENU > UTILITY > IMPORT TONE).
SYSTEM > AGING parameters were organized and added.
The STEP EDIT function supports the TR-REC input method.
Also, a pattern created using STEP EDIT can now be played as part of an arpeggio immediately after exiting STEP EDIT.
A Keyboard Input Range was added to I-ARPEGGIO. A lead can be played with the right-hand while playing an arpeggio with the left.
Interlinking with Apple MainStage is supported.
AIRA LINK is supported.
Audio and MIDI connections to the AIRA MIXER MX-1 can be made using a single USB cable.
An Arp Sync function was added to I-ARPEGGIO (MENU > SYSTEM > ARPEGGIO).
Playing with I-ARPEGGIO's beat or measures synced to an external sequencer is now possible.
Drive Sw, Part Level, and AGE were added to controller assignments for SL1, SL2, and the like.
The functionality of the [1] through [10] buttons can now be customized when in the PART mode.
PITCH, FILTER, and AMP settings for ENVELOPE and LFO can now each be made independently using the panel even during tone play for models other than JUPITER, JUNO, JX, and SH.
It is now possible to change the MODEL and CATEGORY by direct cursor movement using the cursor buttons at the MODEL BANK screen.
It is now possible to switch TRANSPOSE ON or OFF using the TRANSPOSE button.
TONEs were added.
Some SCENE settings were changed to support new parameters.
Opravy
SCENE COMMON > VOICE RSRV failed to function.
When multiple categories have been arranged using MODEL BUTTON ASSIGN, only the first category is selectable (version 1.03).
The screen sometimes changes to the wrong display when a control is operated while holding down the [ SHIFT ] button.
Other minor bugs.
verze 1.03 - listopad 2019
The Aging function, by which the sound changes according to the unit's internal temperature, has been improved.

The change in sound when Aging is set to ON was modified to change in a more analog manner.
The [MENU] > Information screen now displays the unit's internal temperature.
When Aging is set to ON, the SCENE screen now displays the virtual internal temperature.
An Aging Initial Temperature parameter for virtually simulating the unit's initial internal temperature was added to the SYSTEM parameters.
Operation when the assignment feature's AUTO TUNING function is set to ON was modified to change in a more analog manner.

Portment Curve was added to the TONE parameters for the JUPITER, JUNO, JX, and SH models.
Icons are now used to indicate parts on the display. The display was improved to enable setting status to be understood at a glance.
Shortcuts to the respective editing pages were added to the MENU screen.
Other minor bug fixes and improvements in functionality were made.
Zdroje: